More Craftsmen® Products: |
Click on any image below to view or download larger image.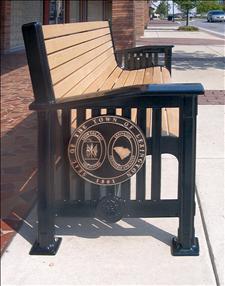 Craftsmen Bench with Custom Applique on Ends Rhododendron symbol cast in bench ends
Standard Features:
Modify one of our designs or create your own.
Columbia Cascade will produce it for you.

View:
Copyright 2021, Columbia Cascade Company, Camas, WA 98607 U.S.A. All rights reserved.
All original product designs illustrated herein are the intellectual property of Columbia Cascade Company and copyright in the year of their creation.