More Colossus™ Products: |
Click on any image below to view or download larger image.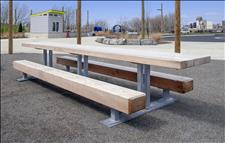 2225 Colossus Big Timber Picnic Table
Standard Features:
NEW! Contact us for more details.
Downloads:
View:
Copyright 2021, Columbia Cascade Company, Camas, WA 98607 U.S.A. All rights reserved.
All original product designs illustrated herein are the intellectual property of Columbia Cascade Company and copyright in the year of their creation.