More SunShade Products: |
Click on any image below to view or download larger image.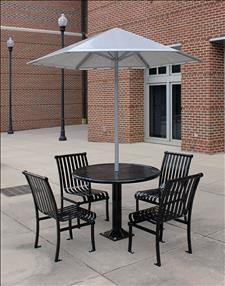 2900-01 Metal Sun Shade
Standard Features:
Features powder-coated perforated aluminum panels.
Sun Shade 2900-01 is 7'-1" in diameter.
Options:
Shown with 2914-0036 Round Table with Center Support.
Downloads:
View:
Copyright 2023, Columbia Cascade Company, Camas, WA 98607 U.S.A. All rights reserved.
All original product designs illustrated herein are the intellectual property of Columbia Cascade Company and copyright in the year of their creation.