More Restoration™ Products: |
Click on any image below to view or download larger image.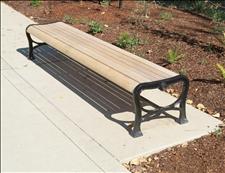 2123-6 Seat
Standard Features:
Black powder-coated recycled cast iron frames

Alaska yellow cedar slats

Rose graphic in end frames

Surface mount, for permanent or moveable applications

Options:
Over 200 designer powder-coating colors

Purpleheart hardwood, powder-coated metal
or 100% post-consumer recycled
HDPE plastic slats

Powder-coated metal slats and frame
in two different colors

Custom name or logo cast in bench ends and/or without rose graphic in casting

Seat length

Additional intermediate frames

Downloads:
View:
Copyright 2023, Columbia Cascade Company, Camas, WA 98607 U.S.A. All rights reserved.
All original product designs illustrated herein are the intellectual property of Columbia Cascade Company and copyright in the year of their creation.