More Bollards Products: |
Click on any image below to view or download larger image.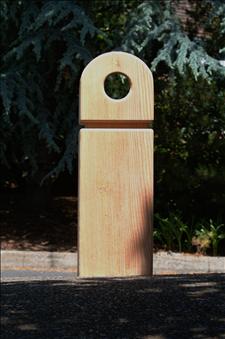 2596 Timber Bollard (12 x 12)
Standard Features:
Seasoned F.O.H.C. Douglas fir timber

Square embedded ends MaxTreat processed

All timber bollards pressure preservatively treated after all fabrication completed

Supplied as standard for embedment (permanent) mounting

Options:
Available for removable mounting on heights above 3'

Hole cover available for removable bollards

Bollard height above grade is optional

Similar design offered in 8 x 8 timber
(Model 2597)

Color options under "View" below do not apply
Downloads:
View:
Copyright 2023, Columbia Cascade Company, Camas, WA 98607 U.S.A. All rights reserved.
All original product designs illustrated herein are the intellectual property of Columbia Cascade Company and copyright in the year of their creation.